Most cnc enthusiasts and beginners are new to this field and don't want to spend a lot of money on expensive cnc routers.
So some mini diy cnc routers are very suitable for your needs. It can also cut and engrave materials. You just need to choose the right product according to your needs.
We choose 8 cheap cnc router reviews, hope my article can help you
SainSmart 3018 PRO
If you want a mini-type cnc router, there should be many choices online, but this is a highly efficient and cheap machine, you can try SainSmart Genmitsu CNC Router Machine 3018-PROVer
I feel that this engraving machine is very practical for beginners, and its appearance is very cool.
When you receive the goods, the parts are pre-assembled, but they are very simple to install and easy to set up.
If you know GRBL software before, then you can use the engraving machine right away.
The 3018-PROVer is the latest version of the 3018, upgraded to a more powerful and quiet Toshiba TB6S109 driver, and to avoid damage to the motherboard and eliminate noise, an optocoupler is added
5mm acrylic baffles on the side can block the'flying' pieces of wood/other cutaway materials so that you can safely monitor the engraving process.
The theme of this engraving machine uses aluminum profiles. This makes it run more stable, and improves the quality of work and service life.
If you don't like to use computer control, then this machine can also be remotely controlled offline. And with 1.8″ lcd display
Note:If a project gets out of hand the PROVer has an emergency stop control that is very visible and easy to access for the immediate shutdown of your machine.
Pros
Support Windows XP, Windows 7 32/64 bits, Windows 8, Windows 10, Linux, Mac OS
Can be controlled offline
Easy to assemble
Support cutting a variety of materials
Cons
Suitable for beginners and diy, the functions that can be achieved are still limited.
MYSWEETY DIY CNC Router Kits 1610
If you are a cnc hobby, you definitely want to have your own cnc tool, so that it will be more convenient for you to use it at home.
MYSWEETY's cnc router kit provides you with a cheap cnc machine at home to process any material or for scientific research. DIY CNC router is a very good product that can help you complete various tasks
In particular, its workbench is really small, only 16*10cm. Can be placed anywhere. The z-axis moves 4.5cm. Ideal for simple design work
This cnc router is also said to be based on grbl and supports windows 10 and other systems.
The machine uses 775 spindle motor, so it can cut all kinds of soft materials and metals. Even meticulously carved calligraphy.
Pros
small volume
Cheap
Simple to use
Cons
Cannot be used for hard materials such as metals
Does not support mac OS
BobsCNC Evolution 3 CNC Router
The BobsCNC E3 is one of my personal favorite cnc router. It is definitely a good choice. It has a larger cutting area and stable rail support.
With the rigid laser cutting frame, you can do whatever you like.
You can use E3 to process hard plastic and some wood.
If you want to learn more about BobsCNC, you can follow their YouTube channel to learn more.
Evolution 3 Manuals and Documentation
Pros
The understanding between the screw and the motor is very cooperative
During work, the swing is small
X and Y run very smoothly
Cons
Looks very bulky and inconvenient to carry
Mcwdoit CNC Router 3018 Pro
Mcwdoit CNC Router is one of my favorite machines, because it is easy to use, only need to download the necessary files to the USB, and then plug in the computer, you can use the router offline
The cnc router is not used for industrial grade, but the function is very powerful. Enough for personal use. It can carve wood, plastic, acrylic, PCB CCL, soft metal like copper and aluminum and other materials, but can not carve hard metal, jade and other very hard texture of the items.
The new version upgrades the capacity to 1Gb, which is enough to store multiple items.
The black profile is used as a whole. The appearance is cool enough. If you haven't chosen your own cnc router, you can buy this one.
Pros
Simple to use
Cnc router for beginners
Download the necessary software and manual
MillRight CNC Carve King 2
This is a very cool cnc router, and I like it very much in terms of appearance. And it is also an affordable cnc router.
With V channel rails with precision turned Acetron V wheels and double shielded bearings is one of its features.
MillRight CNC Carve King 2 version Trapezoidal stainless lead screws with POM anti-backlash nuts on every axis
The MDF frame makes it more stable and not easy to shake during work.
When you choose a cheap machine, you can learn about this cnc router. It also supports grbl software. If you know grbl, you can directly make it work
Pros
The service is great. Even if you don't know anything, don't worry
Simple to build
Very convenient for DIY
Cons
Only suitable for simple carving.
Yofuly CNC 3018 Pro Max Laser Engraver
If you want to buy a high-end cnc router with good value for money and placed in the workshop, Yofuly cnc3018 Pro-M is the ideal cnc router.
The whole body is made of aluminum profile, so it is very stable and durable. The volume of This CNC Router machine is 400 x 330 x 240 mm, Engraving area: 300x180x45mm; Aluminum alloy Plate area: 300x180mm; It can meet most of the engraving tasks.
The maximum ascent height of the spindle is 45mm. Spindle Motor need DC24V, the maximum spindle reaches 120Watt, 10000rpm, can easily cut soft materials; professional spindle manufacturer manufactures, can achieve stable operation.
You can choose between computer control and offline control for engraving, depending on your hobby.
By purchasing the package, you will also get free drill bits and fixtures for fixing, including Blu-ray glasses and other types of components.
This machine runs on grlb software and can run on different operating systems from window XP to Windows 10.
Pros
Laser protection boards on both sides of cnc router, easy to use laser
A4988 driver is more stable
The control board supports limit switches, tool settings, steering gears, cooling fans and other functions
Offline controller with 1.8in LCD monitor
Original WorkBee CNC Machine Kit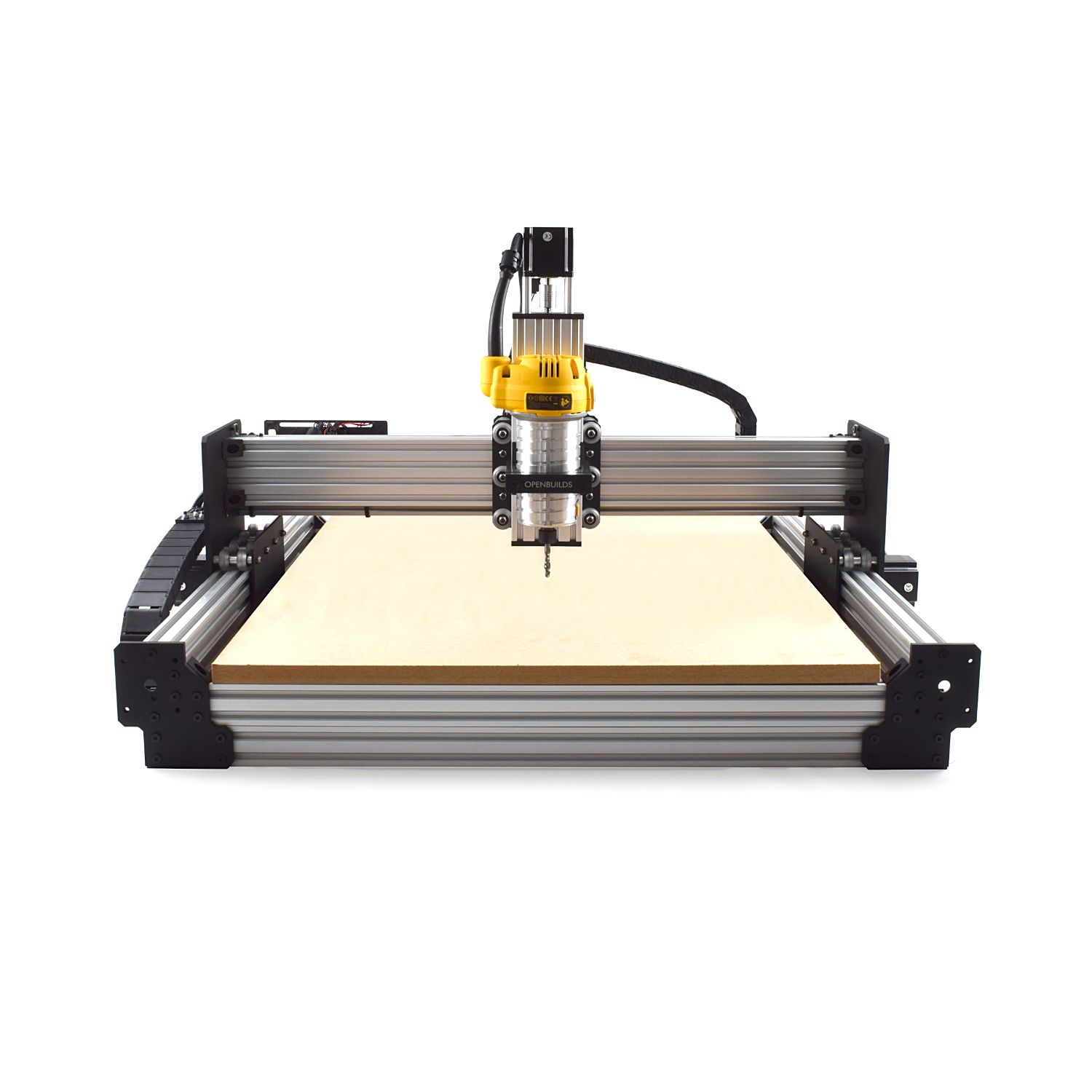 Ooznest Original WorkBee can accurately cut foam, wood, plastic or aluminum with a depth greater than 25mm to 0.1mm or greater.
If you are a beginner and can only have a lower budget, then this is a good cnc router.
Workbee CNC uses Xtreme solid V wheels, which can reduce wheel pressure and minimize wheel wear.
The machine has a powerful 5 TMC2660 stepper drive, which has powerful functions for any CNC machine.
You can use this machine to make engineering parts, toys and signs.
Pros
X-axis and Y-axis C-beam can hide debris in the drive system
Use Xtreme Solid V wheels and protective anodized aluminum plate to effectively extend the service life
WorkBee screw tensioning system enables the maximum size of 1500x1500mm
The controller has three home switches (one for each axis) and their corresponding mounts and wires for easier repositioning
Cons
The installation is cumbersome and requires careful comparison
RATTMMOTOR CNC 3018 PRO DIY Mini Rounter
The cnc router provided by RATTMOTOR is small in size, easy to use at home, and can cut and engrave on various materials.
This cnc router can fix the spindle and laser on the z axis to engrave on different types of surfaces
The whole machine is made of aluminum profile, so it is very strong and durable. Its working area is 30 cm x 18 cm x 4.5 cm
The machine needs at least 12v voltage to run, and supports different operating systems windows XP SP3, win7. (32/64 can be). Linux; meet most needs
The cnc router is an unassembled part, so you have to assemble the whole machine yourself, which also adds a lot of fun to some manual enthusiasts.
Pros
Highly recommended by amateurs
Can be carved on plastic, wood and softer metal surfaces
The overall stability is very good
Cons
The price is a bit expensive, suitable for purchase during discount
Summary
We have summarized 8 cheap cnc routers, which you can buy according to your needs. Most cnc machines are very reasonable in price and can be used by beginners.
Cnc router construction materials and cnc boards used, as well as motors. Decide whether the machine is stable and durable. This is where we are particularly talking about.